Download our whitepaper and learn how to protect your Sitecore investment with Azure managed reference architecture services.
We'll guide you past the most common stumbling blocks Sitecore users and implementation partners experience on their cloud journey.
You will find this guide particularly useful if you are:
Looking for subject matter experts that understand both Azure as well as Sitecore
Trying to reduce costs and optimise cloud resources
Looking to extend Sitecore to Azure China and other markets
Require a secure and globally scalable deployment from day one
Willing to take full advantage of Azure's ongoing releases and configuration updates
Grab your copy to take off on your Azure journey with confidence.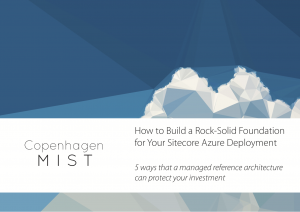 Learn more about how Azure Blueprint for Sitecore can benefit your project